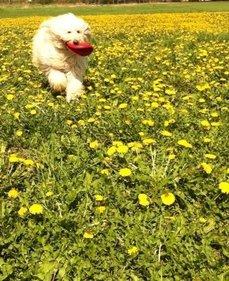 Stay out of the Sun Day
Did you know July 3rd was Stay Out of the Sun day? We know that as Canadians living in Perth County, we like to take as much sun as we can get during what seems like, our really short summers. So here are some tips for keeping your pet safe while enjoying the summer sun and heat.
Prevent Hot Spots and Ear Infections
We commonly see hot spots and ear infections over the summer, especially in dogs with longer hair. The most likely cause of these issues is being wet for long periods of time. Therefore, the best course of action to prevent hot spots and ear infections is to make sure to dry your dog as best as possible after playing in water. Be sure to towel dry its body well. Also, always try to have some drying ear cleanser and cotton balls to clean out its ears after swimming.
Water Safety
Always supervise your dog while playing around water. When boating, make sure your dog also wears a life jacket like the rest of your family in case an accident happens. Breeds with short faces such as bull dogs, may need life jackets at all times to keep its nose above the water. As mentioned above, make sure to dry your dog thoroughly after swimming. For more tips on water safety, see our previous blog.
Boarding
If you plan on boarding your dog this summer, you need to make sure it is up to date with all its vaccinations including kennel cough. If your dog has never been boarded before, consider doing a short trial stay first so that it can get used to the place. For more tips on boarding your animal, see our previous kennel cough blog.
Heat/sun safety
Avoid outdoor activities during very hot and sunny days. If you must be outside with your pet, make sure to have fresh water available at all times. Also consider using cooling collars or jackets. Make sure to watch your dog, as it can over heat a lot faster than we can. For more tips on keeping your pet safe in the sun, check out our previous blog: Keeping your pet safe in hot weather.
Hot pavement
Pavement can reach extremely high temperatures and cause burns to your dog's feet. Avoid walking it on pavement where possible. If it is unavoidable, try walking your dog early in the morning or later in the evening once the ground has cooled.
Cars
Unfortunately, every year we hear stories about dogs being left in cars on hot days. It does not take long for a dog to suffer heat stroke in a car, even with the windows down. If you have to run some unexpected errands while out with your dog, ask the store manager if you may take your dog in with you. Most will be very understanding in these situations. Otherwise, avoid taking your dog in your car unless your plans include your dog. Watch this humorous video with a serious topic that needs awareness. Enjoy!
All of us at Coventry Animal Hospital hope you and your pets stay safe this summer!