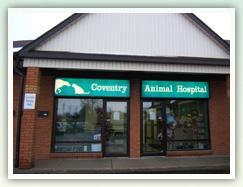 Patient care requires dedication and compassion. Veterinary medicine is a very important part of helping pets live long and healthy lives. Extending and enriching the quality of time we have with our pets only improves the important bond between both you and your furry friends.
We attend lectures, as well as conferences in Canada and the US, and invite industry representatives to our clinic to provide educational services on products and innovation to our entire staff.
We offer a range of wellness and medical services for your dogs and cats, including behaviour counseling and grooming. Boarding is provided at our sister clinic, Mitchell Veterinary Services, 519-348-9711. Large animal services are offered at both Mitchell Veterinary Services (Mitchell) and Pauly Veterinary Clinic (Milverton).
With our in-house laboratory we can perform a wide range of tests on site allowing us to obtain immediate results. This is often critical for sick or injured animals. We also have access to other commercial laboratories when needed.
If you have a concern about your pet's health but aren't sure you should bring him or her in, don't hesitate to give us a call at (519) 273-3471.
For more information on procedures and services please go to the Services page.
Please also take a moment to review our hospital policies to learn about our administration.