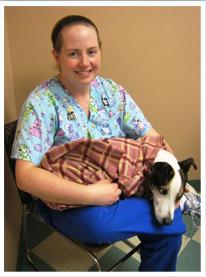 IV (Intravenous) Fluid Therapy:
During illness, it's of great importance to make sure patients, whether animal or human, receive the accurate and complete dose of medication(s) and fluid therapy. We use IV fluid pumps for accurate and continuous administration of IV fluids and IV medications.
Nursing Care:
All our technicians have received college-level education from accredited college facilities. They have written and maintain their registration with the Ontario Association of Veterinary Technicians (OAVT) and regularly attend meetings and seminars relating to animal health.
Housing:
Blankets are placed in each bed. Heating discs are used for post surgical and critically ill patients keeping your pet warm for up to 12 hours. Fresh water and food are available, litter boxes are kept clean, and dogs are walked several times a day.