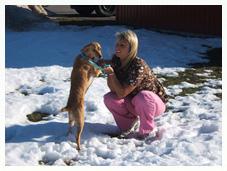 Boarding Services Provided by our Sister Clinic
Mitchell Veterinary Services
519-348-9711
Ease your concerns about leaving your pet behind while you're away: Let our qualified staff at Mitchell Veterinary Services take care of him or her. We will provide your dog or cat with a safe, comfortable, "home away from home" atmosphere. We are happy to accommodate any special care or needs your pet might have. Just let us know when you make the reservation.
We provide amenities such as clean bedding, food and water bowls, but feel free to bring your own if you'd prefer. Toys and other personal items that are washable are welcome. We will administer any needed medication and follow your specified feeding regimen. (Alternately, we can provide a high-quality diet for no extra charge, although eating their own food tends to agree better with most boarded pets.)
Note: We do not allow the feeding of raw hide bones or raw meat in the kennel.
Our friendly veterinary technicians regularly check on the pets, and our kennel staff monitor the boarding area. You have the added benefit of knowing that one of our clinicians will promptly begin treatment if your pet gets sick during his or her stay.
For the health and safety of our guests and staff all dogs who board with us must be up-to-date on DHPP/Rabies and Bordetella (Kennel Cough) vaccinations. All cats must be up-to-date on FVRCP/Rabies vaccinations prior to check-in. Written proof of vaccinations is requested for all guests.
If not current, the vaccines must be brought up to date at least two weeks prior to boarding.
Note: Kennel Cough is a potentially severe disease spread through the air in confined areas. This vaccine needs to be administered to your pet at least two weeks prior to boarding to be effective.
If your pet is not a patient of our hospital we'll request your permission to obtain a medical records transfer from your veterinary clinic. This way we'll be better able to attend to your pet should the need arise during their stay with us.
Schedule your boarding reservation today! For a tour of our boarding facilities, feel free to call our clinic to set up a time.
Click here to view our boarding brochure .