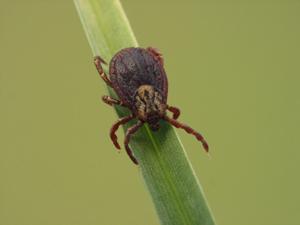 Lyme disease is transmitted by black-legged deer ticks. The ticks are found most commonly in long grasses, forested areas and sand.
According to the Public Health Agency of Canada:
Endemic (high-risk) areas:
Pointe-Pelee National Park
Rondeau Provincial Park
Turkey Point Provincial Park
Long Point peninsula including Long Point Provincial Park and the National Wildlife area
Wainfleet Bog near Welland on the Niagara peninsula
Prince Edward Point
parts of the Thousand Islands National Park
Risk areas:
around Kingston/Belleville
along the Saint Lawrence valley to the border with Quebec that extend north east towards Ottawa
in western Ontario in the region of Lake of the Woods
Pinery Park on the shore of Lake Huron
Tick populations are expanding and it is possible that Lyme disease can be acquired outside the currently identified areas.
There are several ways to minimize your dog's exposure to Lyme disease, but ultimately preventing tick bites is best.  Please give us a call to discuss the options for Lyme disease prevention that would best suit your dog's lifestyle.