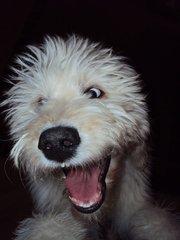 How can you keep your pet's teeth healthy at home?
Here are some suggestions for maintaining a healthy mouth at home in between routine check-ups and professional dental cleanings:
Tooth brushing
This is the MOST EFFECTIVE home care practice
Brushing daily is not only better for your pet's dental health, but it then becomes part of its routine and your pet is more likely to accept this routine

This is best started when your dog or cat is a puppy or kitten
Do not start brushing a painful mouth

Focus on brushing along the gumline on the outer perimeter of the teeth
Make sure to reach the teeth at the very back of the mouth
While you're brushing and handling the mouth, look for any redness, lumps or bad odour
Feel free to use a human toothbrush with soft bristles but do not use human toothpaste (which is toxic to pets).
If your pet is adverse to a toothbrush, don't despair; there are a number of other tools you can use:

A facecloth or nylon can be used along the gumline in a circular brushing motion
Pet toothpaste is available in yummy flavours, like chicken
2.  Dental diets
These diets are formulated to meet an adult pet's complete nutritional needs but have extra features that help maintain dental health
The kibble is a shape that encourages the pet to crunch through them, which helps remove tartar and these diets contain plaque reducing ingredients
3.  Dental treats
–     Treats should comprise no more than 5% of your pet's daily calories
–      Certain treats are formulated to have dental health benefits through mechanical action, as well as through clinically-proven additives
–     Certain rawhides and chews fall into this category and there are different sizes recommended based on the body weight of your pet
4.  Other dental health products
Anti-plaque products reduce plaque formation

Water additives
Dental gel
Dental spray
Dental wipes
The Veterinary Oral Health Council (VOHC) reviews data on products that have been tested using VOHC protocols. Products that meet their standards are awarded the VOHC Seal of Acceptance for plaque and/or tartar prevention.
Want more? Additional information can be found at the following website:
https://www.avma.org/Events/pethealth/Pages/February-is-National-Pet-Dental-Health-Month.aspx
Contact one of our veterinary team members at Coventry Animal Hospital if you have any questions or concerns about your pet's dental health.
Related Articles:
Brushing your dog's teeth video